Neighbor
2010
Painted laminate on wood
41 x 31 inches
All Po-Pos Go to Heaven
2015
Enamel paint, resin, foam and welded metal stand
7 x 5 x 3 feet
The Dean
2010
Manila rope on polystyrene, wire and steel; leather, varnish and enamel paint
48 x 29 x 24 inches
Danny Volleyball
2016
Flocking, enamel paint on wood, steel, hardware
31 x 28 x 9 in
Danny Baseball
2016
Flocking, enamel paint on wood, steel, hardware
33 x 15 x 8 inches
Installation view
2013
Ben Stone at Western Exhibitions
Chicago, Illinois
Danny and Donny Bicycle
2016
Rayon fiber and enamel paint on wood, steel, hardware
25 x 48 x 11.5 inches
Danny Karate
2016
Flocking, enamel paint on wood, steel, hardware
25.5 x 21 x 8 inches
Bruce Rauner, Pubic Servant
2016
Pubic hair from various sources on adhesive paper
6.5 x 4.5 inches; 11 x 9 inches framed
Trajectory
2016
Cast resin bullet holes, string, CD case, steel, hardware
Dimensions variable
Details
Up Dog Redux
2016
Wood, motor, polyurethane resin, paint
8 x 10.25 x 5 inches
Abe's Song
2008
Painted cast resin, wood and fabric
9 x 5 x 3 inches
Edition of 3
Treehuggers
2013
Resin-coated polystyrene, table, party-store fringe, felt
84 x 49 x 24 inches
Phony Home
2013
Painted cast resin wall-mounted relief
75 x 72 x 0.5 inches
Detail
Installation view
2013
Ben Stone at Western Exhibitions
Chicago, Illinois
Nimajneb Benjamin
2013
Painted cast fiberglass and wood
36 x 48 x 18 inches
Trip Ship
2013
Painted cast resin, plywood
30 x 30 x 15 inches
Phony Home (detail)
Official Sculptor of the Score
2016
Engraved plaque
9 x 12 inches
Blue Meanies
2010
Ballpoint pen on resin-coated enamel-painted polystyrene and wood
Large base: 58 x 87 x 45 inches / Small base: 40 x 60 x 39 inches
Hey, Fuckface
Blue Meanies
2010
Ballpoint pen on resin-coated enamel-painted polystyrene and wood
Large base: 58 x 87 x 45 inches / Small base: 40 x 60 x 39 inches
To Protect the World from Devastation
2010
Enamel on coated polystyrene
28 x 26 x 9 inches
Foneboner
2007
Polyurethane-covered polystyrene, wood, aluminum, enamel paint
120 x 90 x 27 inches
Installation view
Calvin on Calvin
2007
Adhesive-backed vinyl decal
132 x 96 inches

Installation view
2007
Ben Stone at Western Exhibitions
Chicago, Illinois
Nuptron 4000
2004
Mixed media
48 x 68 x 96 inches
Drifter
2002
Painted resin forms on wood base
72 x 60 x 30 inches
Radioland
2002
Artist's a capella version of a Kraftwerk song, broken down into 25 segments.
The Ghost of Harry Caray
1998
Mixed media
18 x 10 x 10 feet
Floated over Wrigley Field in September 1998 during the Chicago Cubs' wild card game against the San Francisco Giants. Photo courtesy Chicago Tribune; see video for complete media coverage.
Ben's Automotive
1999
Mixed media
10 x 7 x 2.5 inches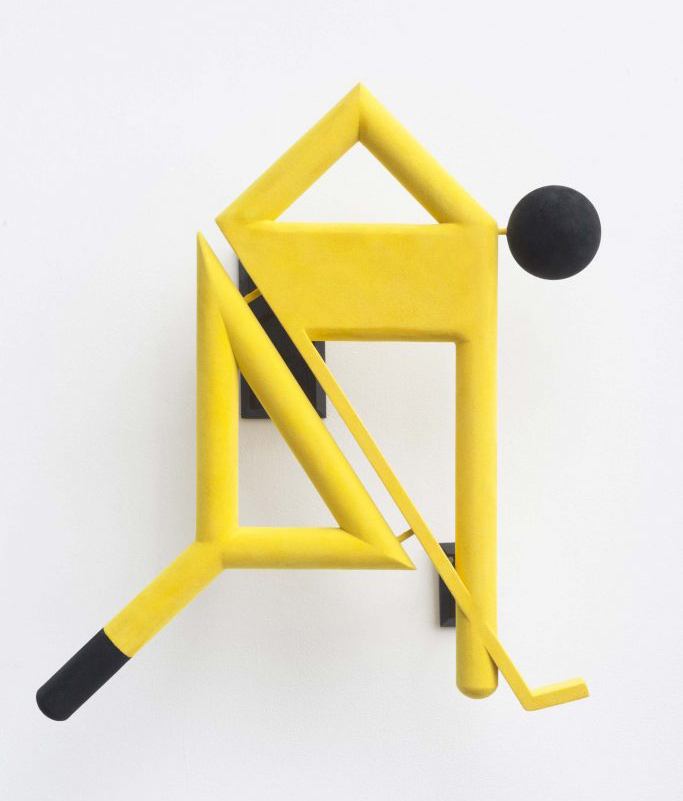 Danny Hockey
2016
Flocking, enamel paint on wood, steel
30 x 23.5 x 7.5 inches
Octopus (Green)
Chi-Town Mani-Pedi
2015
Epoxy-coated polystyrene, aluminum, enamel paint
35 x 31 x 7 inches
See collection
Heartlight
2013
Painted cast resin wall-mounted relief
9 x 9 x 0.5 inches
Edition of three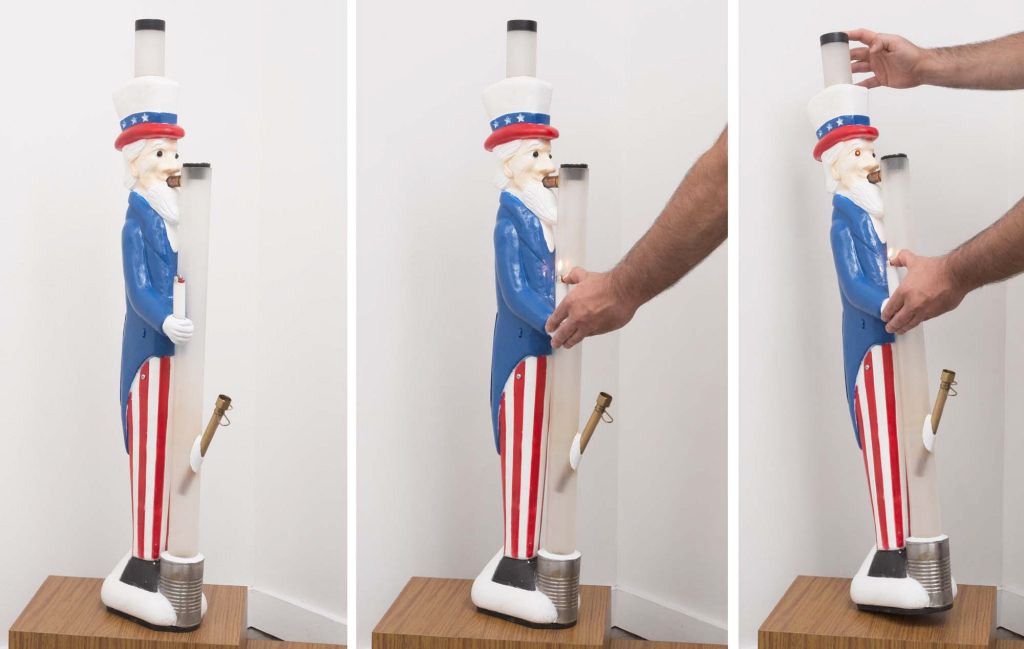 Mary Lou
1999
Enamel, fiberglass resin
30 x 28 x 9 inches
Weathercasters '97
1997
Photos/text on cardstock; 20 cards per set; autographed photos, frames
More images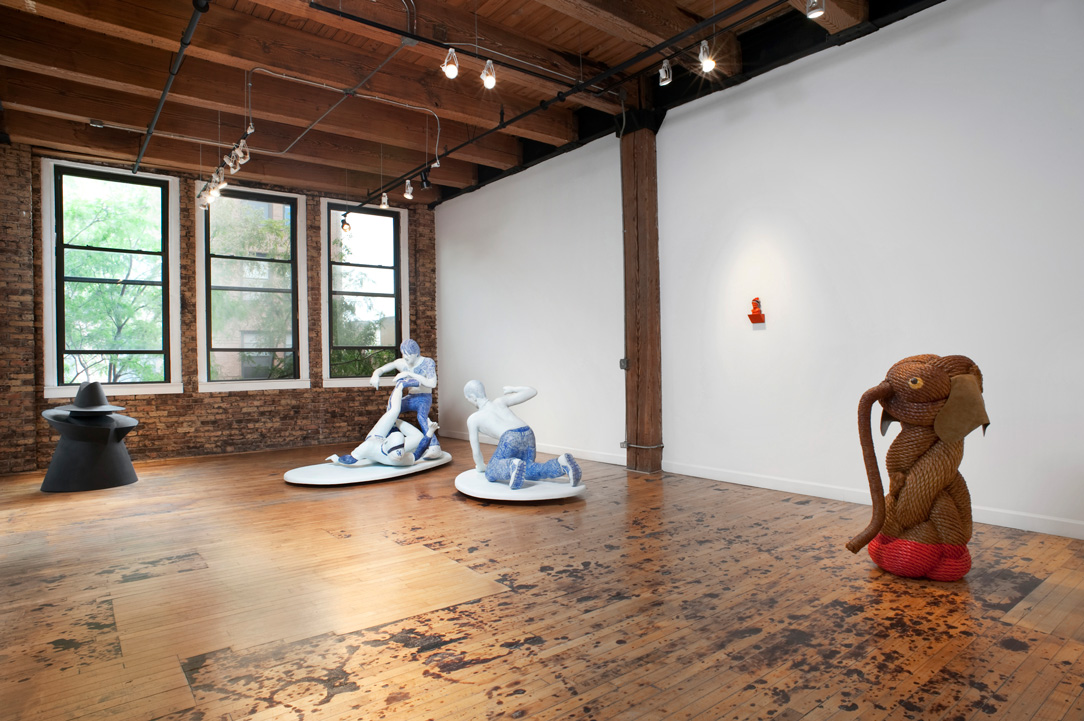 Installation view
2010
Ben Stone at Western Exhibitions
Chicago, Illinois